Just a quick announcement to share that I'm going to be presenting at the inaugural meetup of the Chicago Data Visualization Group on Thursday 14th June from around 6:00pm.
The location details are still be confirmed but as soon as they are, I'll update this post or you can see information on the Meetup page.
If you're in the Chicago area (or even beyond) and want to hear me ramble on for an hour or so, it will be great to see you. If you are indifferent to my star quality there will be plenty of other interesting people there to mix with!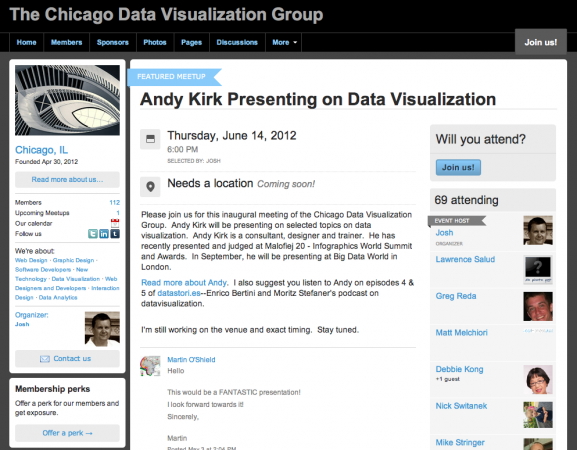 Here's a sneak preview of the talk…
The 8 Hats of Data Visualization – The nature of data visualization as a truly multi-disciplinary subject introduces many challenges to those wishing to achieve mastery. You might be a creative but how are your analytical skills? Good at closing out a design but how about the initial research and data sourcing? In this talk we will learn about the many different 'hats' a visualization designer needs to wear in order to effectively deliver against these demands. Whether a single person will fulfill these roles, or a team collaboration will be set up to cover all bases, this presentation will help you understand the duty requirements of any visualization problem context.