10 years ago today I took the first steps towards making the most significant change in the future direction of my working career. 30th September 2011 was my last day as a full-time permanent member of staff at the University of Leeds. The next day I shifted over to a part-time working pattern, initiating a 6-month period towards fully departing from normal employment and commencing a full-time freelancing career. It has unquestionably been the best decision I have made in so far as it was the decision I have made that carried the greatest risk/reward ratio.
Having recently returned from my first ever (but not last ever) sabbatical break it feels like I've reached something of a mid-point – or half-time, in football parlance – in my particular freelancing journey. With a slightly renewed spring in the step I look hopefully forward to accomplishing another successful decade being my own boss.
Over the next few weeks and months I'll be looking to fire-up *some* of the blogging series ("best ofs", #LittleVis) as well as new episodes of the 'Explore Explain' podcast/video series, once again, and I'm planning to belatedly bring in the decorators and designers to help give this website a whole new look and feel. Uncertainties persist with the pandemic continuing to prevent complete normality returning as yet but one can at least hope the trajectory towards 2022 will make it possible to resume some face-to-face activities, like training events and talks/conference events. I'm really looking forward to seeing people again outside the rectangle of a video call.
Anyway, enough navel gazing. As well as today being personally and professionally significant, it has been made even more milestone-ish by my discovery that today is the day Seinfeld is launched on Netflix. Regular readers and visitors to these pages will be aware of my large-scale work published in 2020 to visualise every Seinfeld episode in what emerged as a *medal-winning* book "The Seinfeld Chronicles".
It feels too much of a coincidence to let this moment pass without doing something to mark it. So… I've been rummaging through my boxes and have dug out 10 (TEN) spare copies of what some have described as being potentially the most significant printed visualisation project about Seinfeld published during a pandemic by somebody named Andy. I would like to offer these ten copies to people out there who would treasure having a printed visual companion to enhance their enjoyment as they binge through the episodes like it was 1990s all over again.
To be in with a chance of winning one copy of the book, you need to comment against my LinkedIn post or reply to or quote-tweet my Twitter post with the tag #TheSeinfeldChronicles and a photo of any Seinfeld-related object, gag, meme, or trope of your choosing. You don't need to include any words of description – you don't need to explain it – just reply with any form of imagery that has relevance to those who exist in the Seinfeldiverse.
I will leave things open for one week and then on Friday 8th at noon, UK time I will close the contest. I will collate all the unique responses and completely randomly generate 10 winners. I will share my workings when announcing the winners next week at which point those lucky individuals will need to get in touch with me to arranging delivery (at my cost). The contest is open to anyone who follows the above instructions!
---
**Update: Friday 8th October**
The results are in! There were a total of 3 entries made in the comments against my LinkedIn post and 27 submitted against the related Twitter post. I copied all the unique URL's for these comments/replies/QTs and pasted them into an Excel table. I then created a random number formula, a rank formula, and an if statement to determine if a random number was within the top 10 values. I then ran a refresh of the random numbers 10 times to arrive at a final list of winners.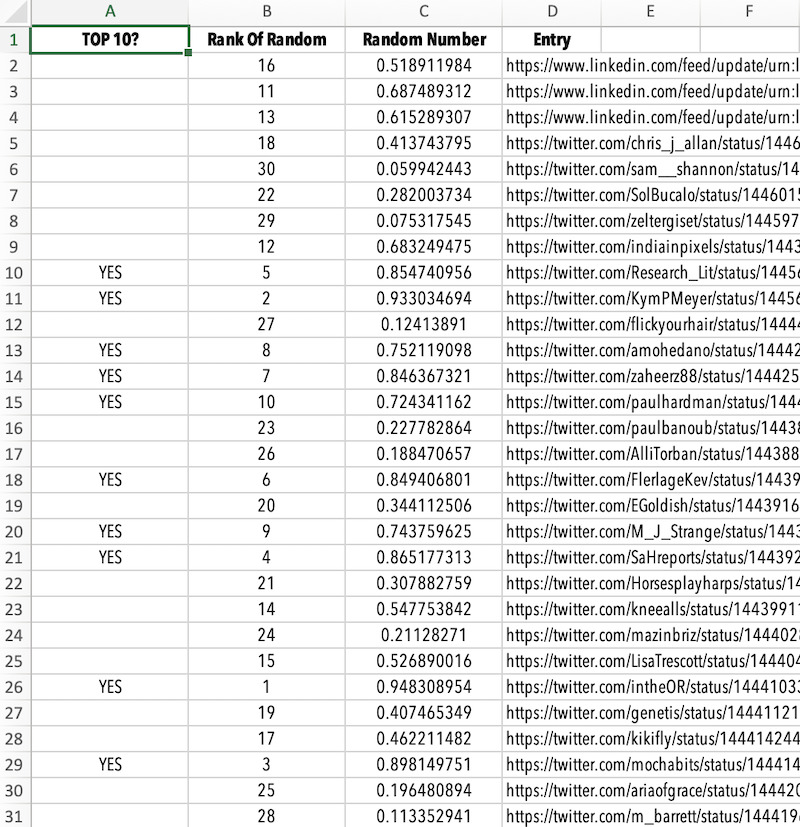 All the winners came from Twitter replies and they are as follows:
1
#TheSeindfeldChronicles https://t.co/0bObQwpgeU pic.twitter.com/urehY12fMz

— Oscar Ruiz (@intheOR) October 2, 2021
2
— Kym Meyer, Ph.D. (she/her) (@KymPMeyer) October 6, 2021
3
WOW! 10 years!!! Did you do a happy dance? Congratulations! #TheSeinfeldChronicles pic.twitter.com/KpAQ8wzupT

— Teresa (@mochabits) October 2, 2021
4
#TheSeinfeldChronicles pic.twitter.com/BXBS4gGm77

— David Ziggy Greene (prev S&H illustrated reports) (@SaHreports) October 1, 2021
5
https://t.co/s6n2xp20ZN pic.twitter.com/CWEqrkuc90

— Dr. #ResearchLiteracy 📊📈 (@Research_Lit) October 6, 2021
6
…and I'm absolutely dying to get a copy of that book!!!! #TheSeinfeldChronicles pic.twitter.com/4WYwfzkEM6

— Kevin Flerlage (@FlerlageKev) October 1, 2021
7
— Zaheer (@zaheerz88) October 2, 2021
8
#TheSeinfeldChronicles https://t.co/EzxAmZjnQR pic.twitter.com/Fulir1vTYo

— Adrian M (@amohedano) October 2, 2021
9
#TheSeinfeldChronicles festivus is best time of year…. pic.twitter.com/djsvqFKOPe

— markyMALFUNCTION (@M_J_Strange) October 1, 2021
10
Congrats on 10 years freelancing Andy – your dataviz course was the best I've ever been on and I refer to the book at least twice a month! I've often thought about going out on my own but it's a bit too scary… 😂 #TheSeinfeldChronicles https://t.co/KmKS5oCy0n pic.twitter.com/OgpyYEKeB2

— Paul Hardman (@paulhardman) October 2, 2021
Thanks to all who entered! Congrats to the winners and sorry to the non-winners (I refuse to call you losers) that you didn't secure a copy on this occasion.
Please can all those who won get in touch with me ASAP on email to share their postal details. I will aim to send out all copies one all or the majority of folk have replied – going to a post office kills my life-force so I would like to minimise the number of trips I have to make!