One month ago I took collection from my local printers of the hard copies of my new work 'The Seinfeld Chronicles', a passion project exploring the rhythm and texture of every episode of Seinfeld.
As I announced at the time, and trailed a few months earlier, the intention was to make 176 copies (one for each episode) available for people to buy on a 'pay what you want' donation model, with all net proceeds (after shipping and fees) going to charity.
Upon launching the donation process in the final week of September it only took two weeks for all copies to be snapped up. I'm so grateful for the interest people have shown in this work and even more so for the generosity demonstrated by those who obtained a copy. I know from my inbox there are many more people who would have happily donated, had the supply of this limited edition print not disappeared so quickly!
I've made clear that I'm not ruling out a future second release of the printed version of this work, especially if opportunities emerge to collaborate with a publisher. However, it is important to preserve the 'exclusivity' that helped to generate the hugely generous charitable donations people submitted to obtain copies through this first release.
I promised all who donated that I would be fully transparent about all the financials involved in this process and provide an update, upon completion, of the donations received and forwarded to the two recipient charities, namely Samaritans and Rainforest Trust, two vital organisations for these pretty rubbish times. So here is the main summary:
---
Print copies made available – 176
Print copies 'sold' – 176
Donations received – £8,015.74
Average donation per copy – £45.54
PayPal donation processing fees – (£394.65)
Cost of shipping – (£2,440.29)
Net proceeds – £5,180.80
Net proceeds as a % of donations – 64.6%
Net proceeds share towards Samaritans – £2,590.40
Net proceeds share towards Rainforest Trust – £2,590.40
---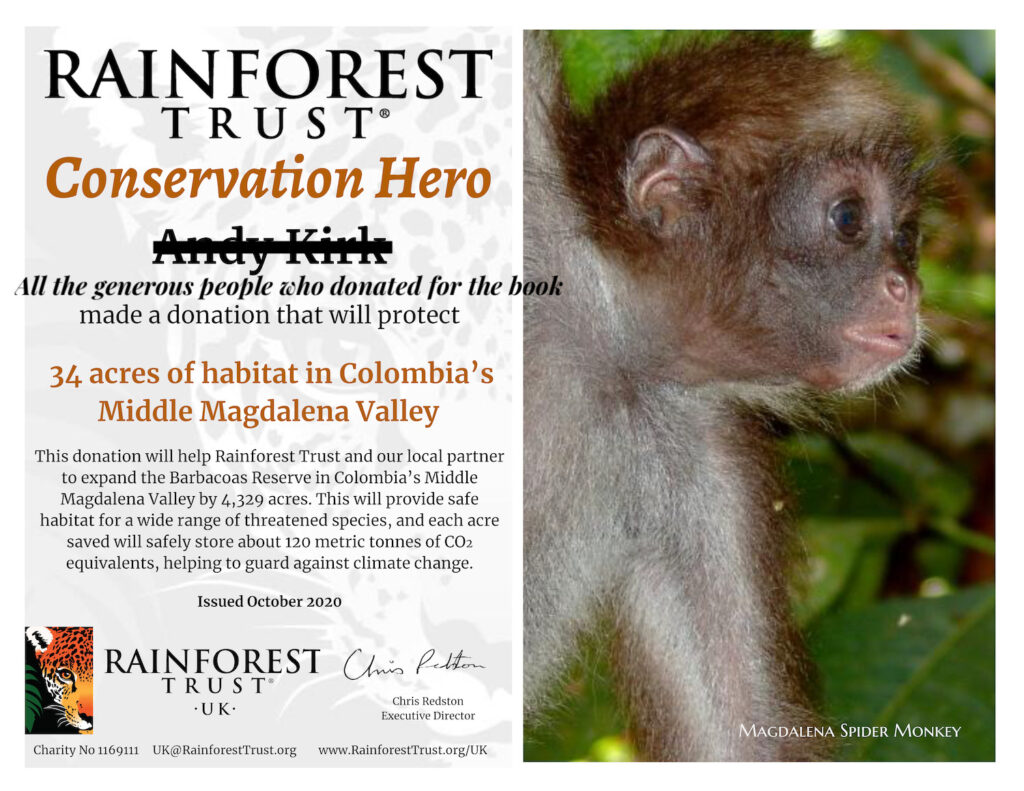 I am writing to thank you for your generous donation of £2,590.40, which we have directed towards our project to protect Colombia's Middle Magdalena Valley. This project aims to increase the size of the Barbacoas Reserve by 4,329 acres, providing safe habitat for a range of critically endangered species, including the Magdalena Spider Monkey, the Blue-billed Curassow and the Magdalena River Turtle. This wetland rainforest area is also a critical wintering habitat for migrating birds from North America, and in total will provide refuge for six primate, 345 bird, 42 amphibian and 723 plant species.
Every acre protected will also store about 120 metric tonnes of CO2 equivalents, helping to safeguard the planet against further climate change. To find out more about the importance of rainforests in the fight against global heating, please visit our climate action page.
You'll be pleased to know that your donation we be quadrupled, which means that you have protected four times as much habitat for endangered species, a grand total of 34 acres. And we guarantee that 100% of every donation goes directly to conservation action, as we cover all our costs through donations from our Board of Trustees and Gift Aid.
To commemorate your donation, please find attached your personalised Conservation Hero Certificate with our compliments.
Thank you again for stepping up to protect this vital wildlife hotspot through your passion project Seinfeld Chronicles – a much needed piece of positivity in these times. If you have any queries or comments about our work, please feel free to get in touch with us, as we're always happy to hear from our supporters!
For the rainforests!
Vicky
Fundraising Manager, Rainforest Trust UK
---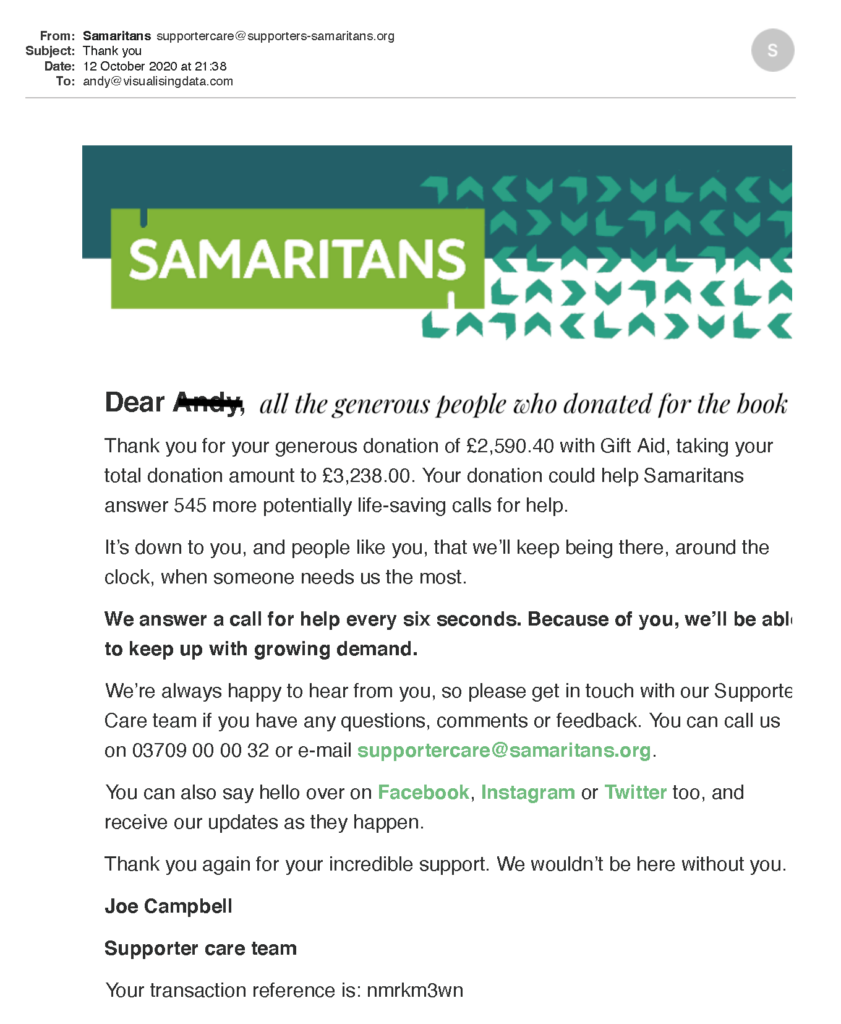 Thank you for your generous donation of £2,590.40 with Gift Aid, taking your total donation amount to £3,238.00. Your donation could help Samaritans answer 545 more potentially life-saving calls for help.
It's down to you, and people like you, that we'll keep being there, around the clock, when someone needs us the most.
We answer a call for help every six seconds. Because of you, we'll be able to keep up with growing demand.
We're always happy to hear from you, so please get in touch with our Supporter Care team if you have any questions, comments or feedback. You can call us on 03709 00 00 32 or e-mail [email protected].
Thank you again for your incredible support. We wouldn't be here without you.
Joe Campbell
Supporter care team, Samaritans