Last year I came up with a slightly random idea to collect photographs of every 2-page spread in my book in different settings around the world. As a frequent business traveller I would take some but would also invite book owners, friends and family to complete the full set. I would then take these photographs and compile them in a way that let's people see and navigate through the full collection, almost like a flip book. And so, the #VisBookFlipBook project was launched!
After the initial fanfare and associated early burst of enthusiasm, progress diminished and then I lapsed, pushing it further and further down my to-do list as other more important workload became overwhelming. However, the full set of 186 photographs have now been received and, with the help of my learned colleague, Mr Andrew Witherley, I am delighted to finally launch the results of the VisBookFlipBook project!

This navigable FlipBookViewer can be accessed (1) directly, via visualisingdata.com/bookviewer or (2) by visiting my site's book page and clicking on the play button found on the main banner image.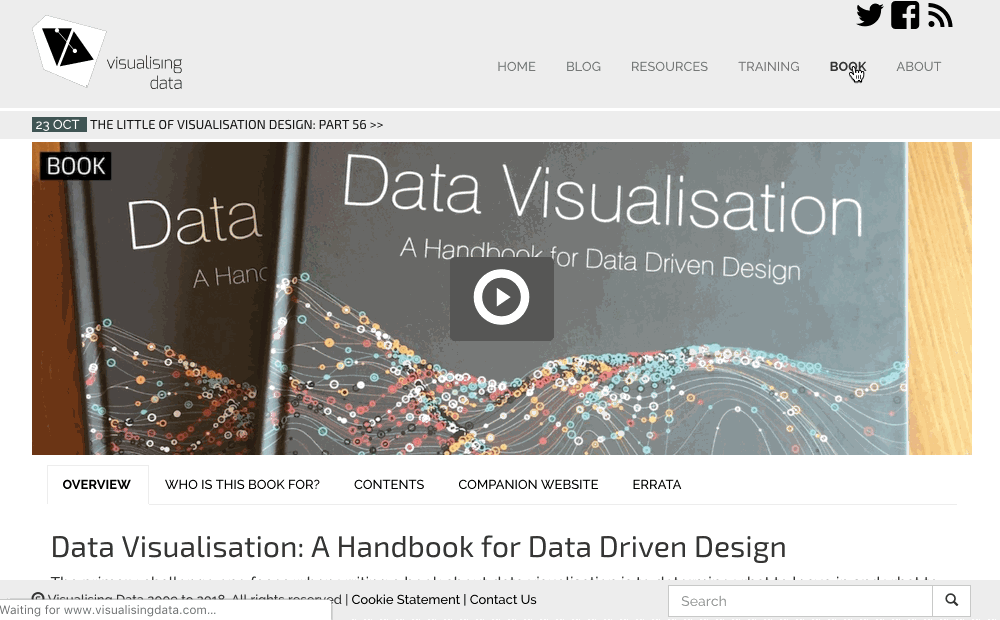 The viewer commences from the front cover and gradually walks you through the remaining 185 pages towards the back cover. You can just sit back and watch this journey or use the controls to move backwards and forwards (in chunks of 1 or 10 photos), pause and restart the sequence, and also jump to a random photo, from which it will then continue nudging forward one at a time. The country in which each photo was taken is highlighted on the spinning globe and there are credits displayed detailing who took the photo, exactly where, and which pages are shown.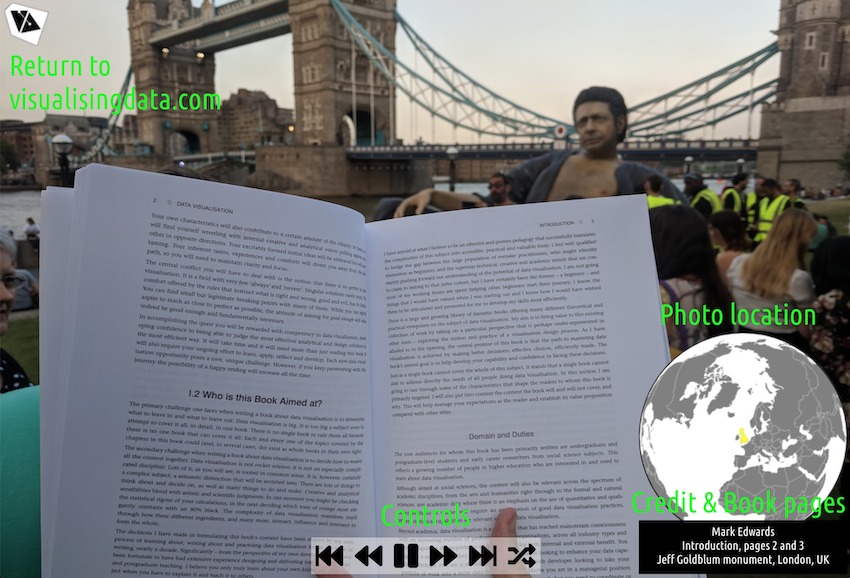 The viewer has been optimised for performance on desktop or laptop. The layout is responsive to the extent of photographs filling the entire width of your screen. This means, due to the inconsistency of layouts and resolutions, different screen dimensions may crop the top/bottom parts of some different photos. If you resize your browser window to an aspect ratio of around 5:3 or 4:3 that will be best. You can view it on mobile by rotating your screen to landscape mode but you won't have access to the range of controls.
A huge thank you to everyone who took part in this, I'm really grateful for you going to the trouble of carrying my book around and having to awkwardly take these shots. I'm delighted with the variety of locations and scenes that have been submitted!
---
Incidentally, the feature photo shown in the top banner includes, in the background, Liverpool FC legends Alan Kennedy and David Fairclough who I happened to meet in Manchester Airport once.